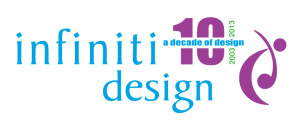 You are here for a reason if you are looking for fun, fresh and creative ideas.
At Infiniti Design we brainstorm, sketch, doodle and colour outside the lines.  We're not square; we're an open-ended cube with endless creativity.
Let Infiniti Design help you not just survive, but thrive and rise above your competitors. Infiniti Design is an innovative and trendsetting graphic design studio, that applies effective marketing and creative thinking skills that are necessary in a competitive business world.
Infiniti Design will partner with you to design, brand and expand your business to your target market in a creative, polished and exceptional way, ensuring that your business personality, services and products sparkle and shine.